Di recente abbiamo apportato alcune modifiche alla nostra Informativa sulla privacy a supporto delle nuove leggi sulla protezione dei dati dell'UE. Fai clic qui per saperne di più.
CONSUMER DEMAND
Satisfy the Craving
With their wildly versatile uses, pleasing taste, can't-live-without-it crunch and upstanding nutrition, almonds have officially cracked the code on worldwide demand. Over half of consumers surveyed worldwide say they like almonds "extremely well" and 90 percent report a preference for products with almonds vs. those without.1 Additionally, 47 percent of global consumers surveyed report a willingness to pay more for an almond product.1
What's more, product innovators can't get enough of this essential ingredient. Almonds are the number one nut in new product introductions since 2006.2 Top food manufacturing professionals have rated almonds as the second most "essential" nut (32 percent), and consider taste appeal to be the number one attribute (55 percent).3
•
Globally, almond product introductions increased 35 percent from 2012 to 2013, which is higher than global food product introductions (27 percent).
1
•
Almonds are the
only nut to rank in the top two for nut introductions globally
(North America, Europe, Asia-Pacific, Latin America, Middle East and Africa).
2
Check out the latest trends in this new article: Snack Nuts Evolve with Changing Tastes, from Innova Market Insights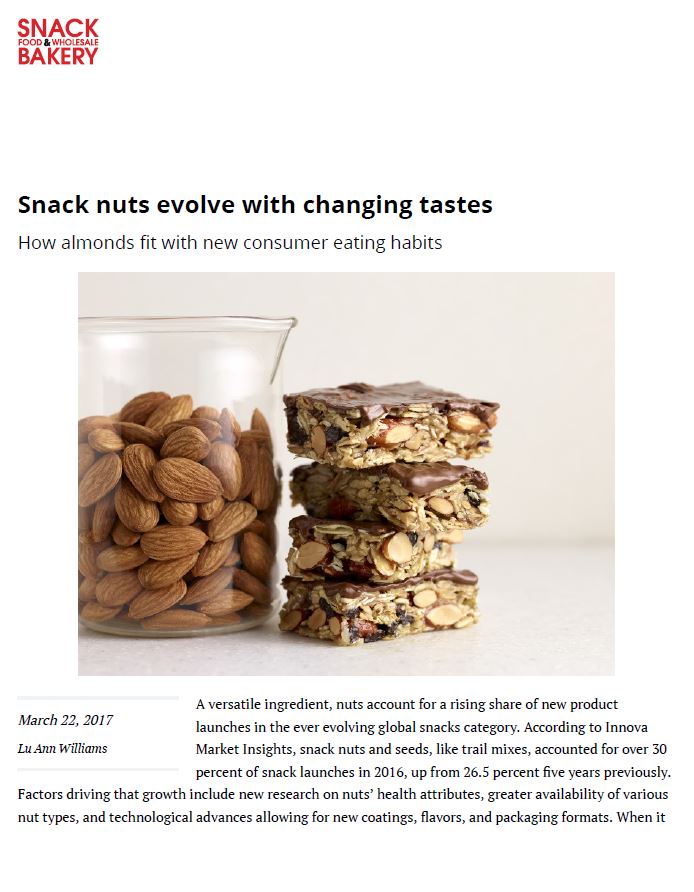 ---
1. Global Perceptions Report, Sterling-Rice Group, 2013.
2. Global New Product Introductions Report, Innova Market Insights, 2015.
3. CPG AAU Study, Sterling-Rice Group, September 2014.